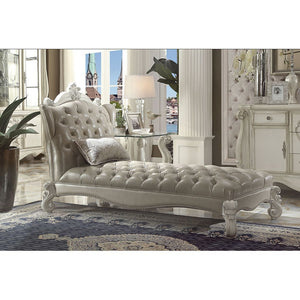 Specifications
| | |
| --- | --- |
| Place of Origin | #originPlace# |
| Main Color | Gray |
| Main Material | PU |
| Filler | #filler# |
| Dangerous Goods | #dangerFlag# |
Dimensions & Weights
| | |
| --- | --- |
| Assembled Length (in.) | 76.00 |
| Assembled Width (in.) | 41.00 |
| Assembled Height (in.) | 49.00 |
| Weight (lbs) | 137.00 |
Description
Some product images may show multiple products, but the SKU itself only contains what is mentioned in the product title.
Usually an SKU contains only one product. If you're in doubt, please contact store customer service to confirm.Due to the quick turnover of product inventory, please consult store customer service to confirm inventory for large purchases. Thank you for your interest in ACME.
Country : China
Include : Chaise w/1 Pillow * 1
Product Size : 76" x 41" x 49"H
Seat Size : 63"L x 0"D x 18"H
Assembly Required : Yes (Changed was Assambled)
Style : Traditional, Vintage
Romance : Create an elegant, traditional design in your room with the Versailles Chaise. A hand-crafted piece inspired from the luxurious designs of the past, this stunning piece comes in a bone white finish and features a vintage gray PU button-tufted back and seat with gray accent pillow. Elaborate carving detail along its wood legs and sides add to its sophisticated style. Introduce a collection of timeless taste and appearance to your room's Decor with an upholstered chaise that will make any home feel refined and comforting.?
Product Details : KD Back, w/1 Pillows : Armless Chaise (No Storage) : Wingback, Button Tufted, Nailhead Trim, Scrolled Crown & Legs: Poly Resin with Antique Contrast Finish : Fully Padded: Scalloped Base : Tight Back & Seat Cushion ::: Material: Vintage Gray PU
Color : Vintage Gray PU & Bone White
Materials : PU, Frame: Wood (Hardwood+Poplar+Ply), Foam, Molding: Poly-Resin
Storage : NO Storage
Storage & Clearance Dimensions : Stationary Seat
NW CTN (LBS) : 137
Estimated Weight Capacity (Lbs) : -
UPC : 0840412034701